Register domains for Trade, Services & Products, with GetDotted.
Trust a trade domain name to increase traffic & visibility. Register domains for trade today!
---
Instantly show the products & service you provide with a trade specific domain name.

Get unique & relevant trade domains to represent yourself and your business.
---
About trade domain names
As international trade increases and the number of niche and specific trades and trades people grow, differentiating between the mass of advertised services, products and the tradespeople web users actually want and require can be difficult, especially when the majority of the more common domain name types (.com, .co.uk, etc) are already registered.
This difficulty extends to trades persons themselves due to the ever increasing need to stand out from the crowd and keep ahead of the constantly increasing competition in the countless trade circles. That's where a domain name relevant to your specific trade, industry, services or products can help.
---
What can I do with a trade domain name?
Whether you're a plumber looking for a new customer base to tap into, a construction firm trying to build their online presence, or a small scale shop just trying to secure your next sale, grabbing a relevant domain name is now more important than ever before for traders, especially with the internet becoming the go-to place for consumers looking for trades, products and services they require.
Registering a cheap trade domain name with GetDotted is a great way to setup your first website for your trade (whether your a butcher, baker, carpenter, or candle stick maker). Perhaps your looking to branch out into a new field of trade, generate traffic with a simple splash page or perhaps your just a frustrated web user who is struggling to find a required service and have decided to setup an online directory to help other web users easily find the services they're looking for.
Regardless of how you plan to use a new trade domain name, finding a relevant trade specific domain is only a search away, so don't trade your place in the search rankings, register trade-specific domain names today with GetDotted.com.
---
Trade-specific domain names available now:
You can see a selection of domains aimed at trades, services and products below. All of the following domain types below can be registered with GetDotted today and if you don't see a domain name which is relevant to your trade, service or product, don't worry, there are still loads of new domain types launching all the time.
---
Where & when can I register trade domain names?
You can register most trade focused domain names immediately, right here at GetDotted.com (although some are still being released). Simply type your chosen trade domain name into the search box below to see the various domain names available.
Remember, with GetDotted.com & Freeola Internet you won't just get your new domain names, we'll also throw in free unlimited e-mail and website - don't delay, register your new trade domain name now!
Find your .trade domains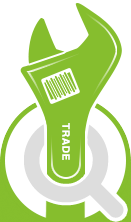 To check the availability of any domain type,
enter anything in the box below and click 'Search'.